Flying Turtle Acupuncture & Massage Red Deer AB
Flying Turtle Acupuncture & Massage Red Deer AB offers a great holistic approach to chronic pain management and health optimization by bringing the body and mind into a more balanced state (chi).
Acupuncture is an effective treatment for back pain, headaches, arthritis, fibromyalgia and chronic pain of all types. Acupuncture also addresses many anxiety, depression, as well as digestive and neurological disorders.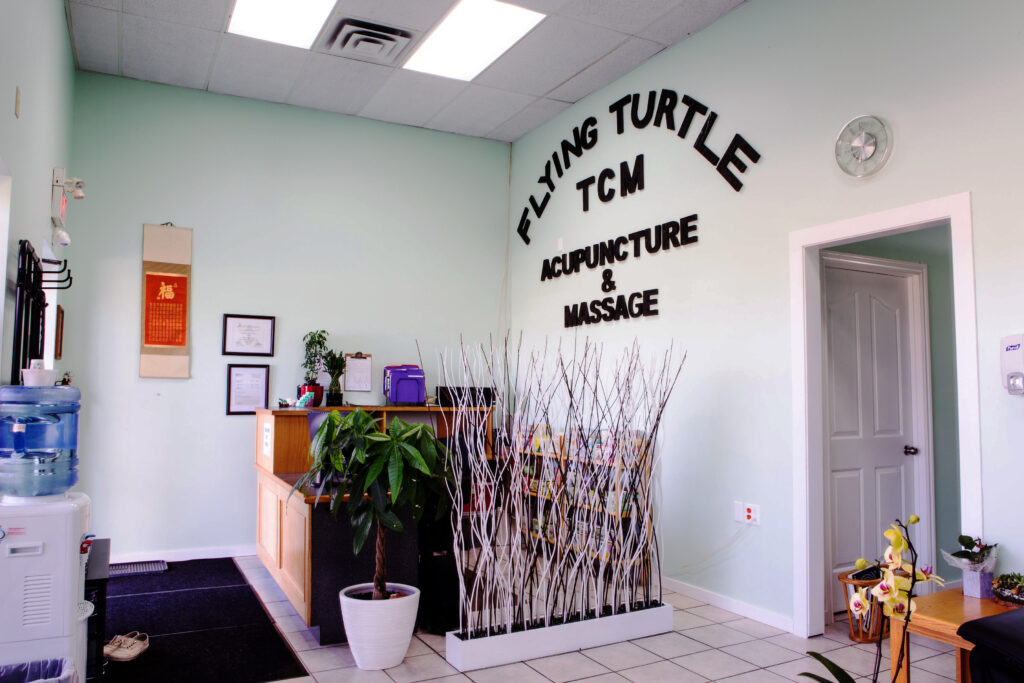 Acupuncture Is a Treatment for Many Painful Conditions
Acupuncture is a modality of Chinese Medicine that can treat may conditions throughout the body like back pain, headaches, arthritis as well as many other types of pain and other medical conditions such as:
Back Pain
Headaches
Sinus issues
Arthritis
Fibromyalgia
Anxiety, Stress, Depression, PTSD
Sciatica
Sprains and strains from Sports Injuries
Frozen shoulders
Shingles
Plantar fasciitis
Bell's palsy
Sequela Stroke
IBS (Irritable Bowel Syndrome)
Acupuncture For Arthritis and Chronic Pain
If you have to deal with arthritis or chronic pain on a daily basis, your quality of life certainly suffers!
Acupuncture is now considered one of the best pain relief methods in Red Deer Alberta, not to mention right across Canada. Whether you have back pain, neck pain, arthritis, fibromyalgia or some other type of daily pain, acupuncture may be the answer you have been looking for.
Most people who have tried acupuncture services say that they feel minimal pain when the needle is inserted, similar to that of a mosquito bite. But the pain relief they feel after receiving an acupuncture session if well worth the minor discomfort.
Arthritis pain is not the same with everyone, and pain treatments vary as a result. Some find that pills work for their pain but have no lasting effects as far as correcting the pain long term.
Others find that acupuncture works for arthritis pain throughout the entire body. Still other find that acupuncture works for arthritis issues in the neck, the hands, the back and the head. So acupuncture may have longer lasting effects as far are relieving pain for longer periods of time.
Acupuncture Sessions
Acupuncture sessions can last anywhere from 30 to 60 minutes depending on the patient, condition and level of pain.
After the initial evaluation, subsequent appointments often take less time on a regular basis until the pain has been mitigated. As far as preparation before you go to your first acupuncture session there is really nothing to prepare for.
Maybe for the consultation with your Red Deer Acupuncture Clinic, have a list of questions and your medical history ready, that's about it.
our acupuncturist Dr Arlo Chinnery from the Flying Turtle Acupuncture Clinic in Red Deer AB, will be able to answer your questions and offer a treatment plan that will relieve your painful symptoms in a matter of time.
Flying Turtle Acupuncture Services Red Deer
The Flying Turtle Acupuncture Services Clinic in Red Deer is located at 3 6828 50th ave Red Deer Alberta. If you suffer with arthritis then you probably have heard about how effective acupuncture is for arthritis pain.
If you find that you have been getting pain in your knees, hips, or legs, it is most likely some form of arthritis, and it may be time to do something about it like scheduling an acupuncture session. What do you have to lose. It is a painless process, similar to a mosquito bite.
According to the National Institute of Health, Acupuncture is generally considered safe when performed by an experienced and well-trained acupuncturist in Red Deer like Flying Turtle Acupuncture.
Many recent studies at the NIH (National Institute of Health) have suggested that acupuncture can help ease pain of many types including back pain, headaches, neck pain, and even osteoarthritis.
Book Your Next Acupuncture Session Today
Acupuncture is great for Arthritis and other chronic pain issues like fibromyalgia, back pain and headaches. Schedule An Acupuncture Appointment Today 403-343-1539