Flying Turtle Acupuncture And Massage Clinic is Red Deer Alberta's Premier Therapeutic Massage Provider.
Opening on May 01, 2018, Dr J Arlo Chinnery's patients from the Hospital Medical Dental Building in Red Deer are lining up to see what added benefits the new facility will provide.
Kanpimon (Bell) Chinnery – Biography
While providing the same level of professional services, Flying Turtle TCM Acupuncture and Massage Clinic is adding the services of Kanpimon (Bell) Chinnery RMT. Bell will bring the added benefits of professional massage therapy, using a variety of great therapeutic styles.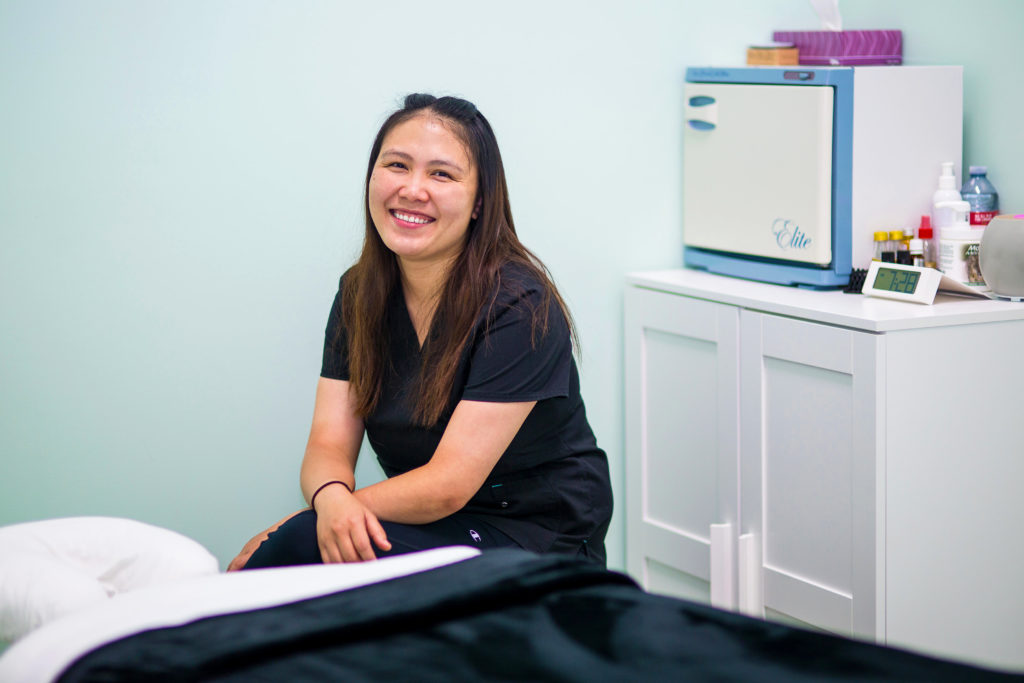 Bell earned a high level of popularity and respect while serving the Red Deer and surrounding area as a massage therapist during the last two years.  Now while managing the Flying Turtle TCM Acupuncture and Massage, she is looking to continue expanding her clientele.  Don't forget that massage therapy is covered by most extended health care plans and is more affordable than you might think.
Bell was born in Thailand and completed her B.A. Public Administration at Chaing Mai University in Thailand in 2005. After moving to Canada in 2011, she worked in the Hospitality Industry and began training in Massage Therapy. In 2016, she returned to Thailand to complete my Thai Massage training.
Since this time, Bell has been working as a Massage Therapist at a local spa and as of May 01, 2018, she had the opportunity to manage and practice at the Flying Turtle TCM Acupuncture & Massage Clinic in Red Deer. Her and her husband are both very interested in Alternative Health Care Benefits. She studied Manual Osteopathy in 2017 and now incorporate Manual Osteopathy
techniques into my massage therapy treatments.
Bell enjoys working with her clients and looks forward to expanding her clientele at the Flying Turtle TCM Acupuncture and Massage and wishes to continue providing professional relaxation and therapeutic massage therapy during their healing journey.
---
Dylan Olafson
Dylan graduated from the Alberta institute of massage in 2018 with his 2200 certification.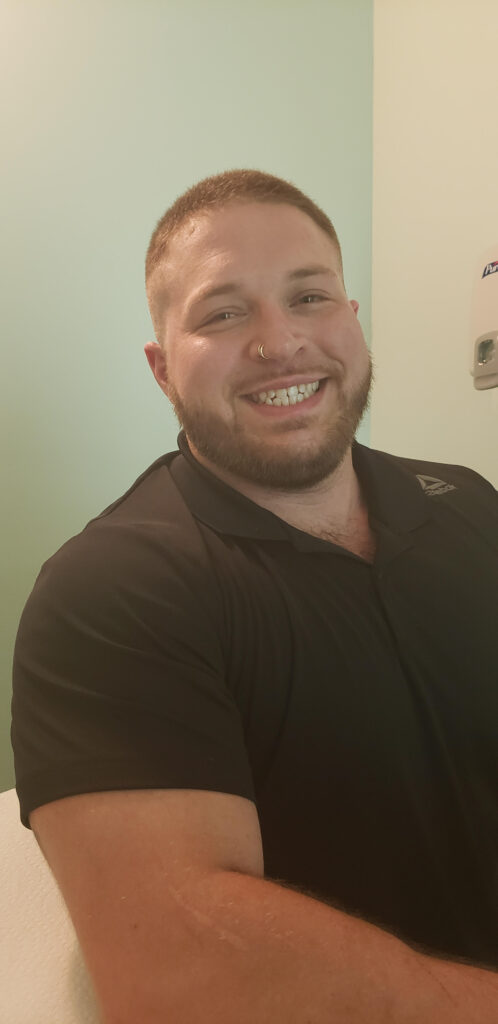 He is trained in a number of modalities such as cupping, sports therapy, therapeutic, relaxation and deep tissue work. Registered with MTAA, and coming from an athletic background of strongman and power lifting, he excels in therapeutic work and preventative home care.
When not working he can often be found training at a local gym, playing board games, and spending time with his wife, bulldog and two cats.
Flying Turtle TCM Acupuncture is an Acupuncture, Massage, and Chinese Herbal Medicine Clinic located in Red Deer, Alberta.
Qualified massage therapists like Dylan are what makes Dr Arlo and his staff the number #1 wellness clinic in Red Deer with many happy customers over the years!
Contact Flying Turtle TCM Acupuncture and Massage today to book your next Acupuncture, Massage, Reiki, or Chinese Herbal session – 403-343-1539
---
Shaylene Stewart RMT
Shaylene graduated with Honours in 2007 from CDI College in Calgary, Alberta with her Advanced Massage Therapy Diploma.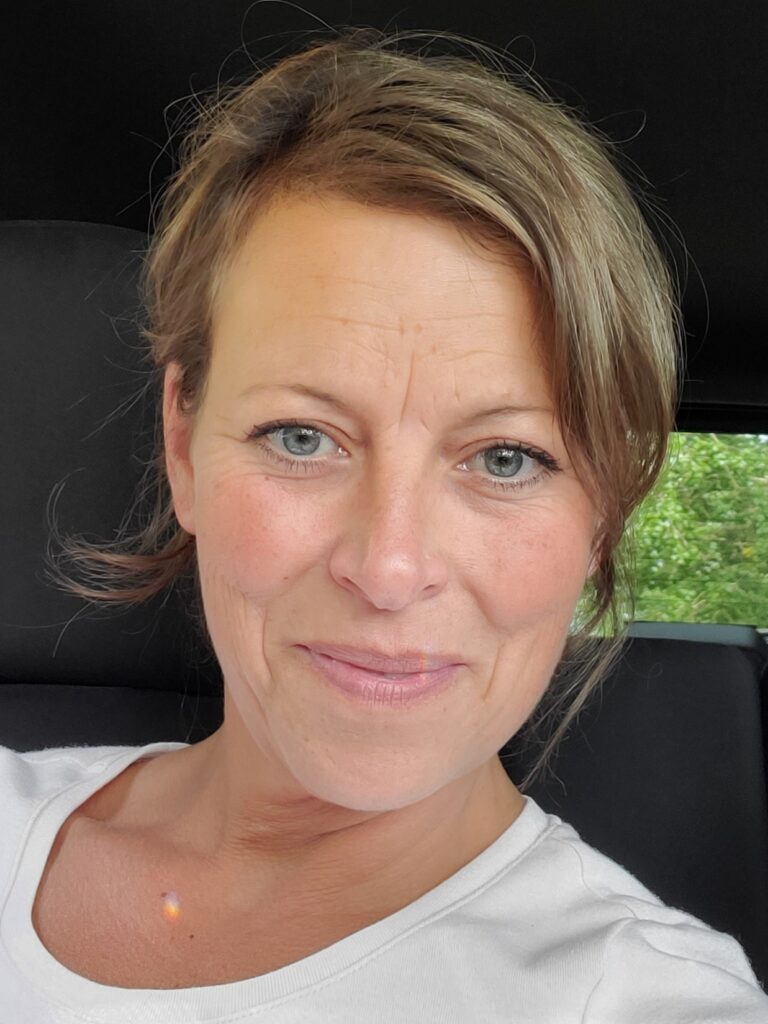 Her passion for natural, alternative ways of healing the body lead her to pursue the profession of massage therapy; especially after observing the benefits massage has had on her three daughters as infants, and now as young adults.
As a natural healer, Shaylene blends a variety of techniques into each treatment specific to each client and their individual needs; the ultimate goal being to achieve harmony and balance on all realms – physical, emotional and spiritual.
Practicing with Naturopathic Doctors, Chiropractors, as well as with other RMTs in Clinical and Spa environments, Shaylene offers a variety of Massage Therapy Treatments including Relaxation, Therapeutic and Deep Tissue Massage, Trigger Point Therapy and Cupping; all of which can be blended together for a more effective treatment in obtaining the ultimate goal of harmony and balance within the body. Continuously seeking to expand her knowledge and offer more services to her clientele, Shaylene is currently working on her certification to offer Reflexology, Hot Stone Therapy, and Reiki.
---
It is now easier than ever in Red Deer to experience the positive effects of massage therapy. Call to learn more about the many types of massage therapy offered today by Flying Turtle TCM Acupuncture and Massage in Red Deer – 403-343-1539


Types of Massage Therapy
Massage Therapy (Massage has been found to improve circulation, range of motion and flexibility as well as overall total body relaxation. It can reduce many common ailments such as stress, muscle tightness, aches and pains even anxiety and depression.Our uniquely relaxing, therapeutic or deep tissue massage is flexible enough to accommodate your individual needs. Our massage combines a number of techniques designed to soothe and recharge you. )
Hot Stone Massage (Hot Stone Massage is a form of massage therapy that follows the same principles of Swedish Massage with the addition of heated stones, which helps lead to deep relaxation. Adding heat to specific areas on the body enhances the feelings of relaxation and peace. Recommended in particular for individuals suffering from fibromyalgia, arthritis or other chronic pain. The penetrating effects of the heated stones allows the massage to be delivered without excessive pressure.)
Foot Reflexology (Focusing on the pressure points on the feet based on a system of zones and reflex areas that reflects the image of the body. The stimulation of these areas can physically improve overall health from this soothing and relaxing treatment.)
Prenatal Massage ( The extra weight in your belly during the pregnancy can bring strain on your back and tension on your neck. Prenatal massage can helps you relieve this pain, it also helps you keep a good posture)
Thai Massage (Thai massage is a calming and invigorating experience with a combination of stretching and acupressure massage. Therapeutic, relaxing, energizing, focusing upon the energy make up of the body, alleviating aches, pains and imbalances. De-stressing, harmonizing the mind, body and spirit. The massage pressure and stretching techniques are customized to suit your needs and body type. No oil used in the thai massage. Please be sure to wear comfortable clothing.)
Other types of massage that you would receive from your Red Deer Massage Therapist would be orthopedic massage, deep tissue massage, and therapeutic massage.