Acupuncture is an effective treatment for back pain, headaches, arthritis, fibromyalgia and chronic pain of all types. Acupuncture also addresses many anxiety, depression, as well as digestive and neurological disorders.
Flying Turtle TCM Acupuncture is an Acupuncture & Massage Clinic located in Red Deer, Alberta that can help with pain management and most medical conditions. Dr J Arlo Chinnery will continue to play an important role in complimentary healthcare options for the Red Deer community and surrounding areas.  Check out the Flying Turtle TCM Acupuncture and Massage clinic.
Our Consultations are No Charge so call and treat yourself to a personalized consultation with Dr J Arlo Chinnery TCMD RAc. Set up your treatment plan early when symptoms first develop as acute symptoms can be relieved with fewer acupuncture treatments than a more chronic conditions that progress over a long period of time.
Dr J Arlo Chinnery TCMD RAc Biography
Dr. Joseph Wang of Vital TCM Acupuncture Acupressure Herbal Inc. Edmonton directed Dr Arlo's initial studies and under his tutelage, Dr Arlo's interest expanded to include Traditional Chinese Medicine.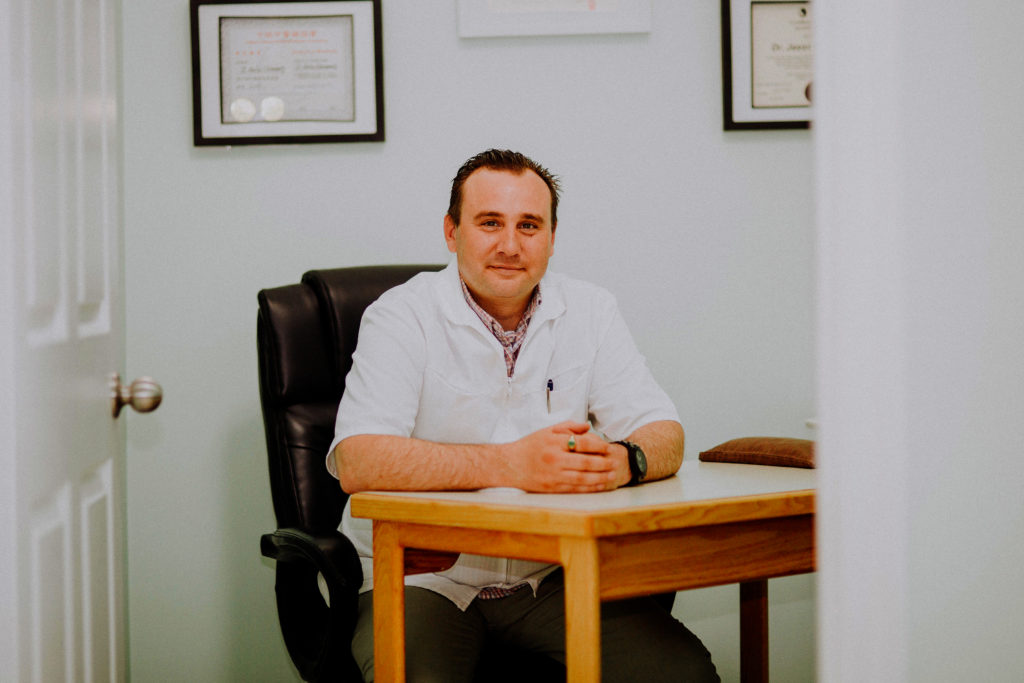 He then enrolled in the TCM program at Academy of Classical Oriental Sciences in British Columbia in 2000 where he received his Doctor of Traditional Chinese Medicine diploma in Dec of 2005.
Dr Arlo then completed internships at both the Prestigious Tong Ren Hospital (北京同仁医院) in Bei Jing, China in 2003, under the tutelage of Dr. Tan and Dr. Yang, and at Rocky Mountain Physio in 2004. He has since 2005 continued a mentorship relationship with Dr. Ma of Heng Kang Chinese Herbal Medicine Centre, Calgary and refer patients to him occasionally when the patient would benefit from a more complex combination of Chinese herbs. Dr Arlo is currently a member of the Calgary Chinese Herbal Association.
Dr Arlo Chinnery began his acupuncture practice in Southern Alberta in 2006, moving back to Red Deer, my hometown, in 2010.  After working as an independent contractor with Dr Kenneth Wu in his Red Deer clinic for two and one half years, he again opened my own practice just east of the Red Deer Regional Hospital.  He engaged in regular CPD (Continual Professional Development), offer free presentations in the community and provide educational talks to high school classes. Dr Arlo participates in volunteer activities as time permits.
Contact Flying Turtle TCM Acupuncture and Massage today to book your consultation or next acupuncture session – 403-343-1539


Acupuncture for The Treatment of Many Painful Conditions
Acupuncture is a modality of Chinese Medicine that can treat may conditions throughout the body like back pain, headaches, arthritis as well as many other types of pain and other medical conditions such as:
Back Pain
Headaches
Sinus issues
Arthritis
Fibromyalgia
Anxiety, Stress, Depression, PTSD
Sciatica
Sprains and strains from Sports Injuries
Frozen shoulders
Shingles
Plantar fasciitis
Bell's palsy
Sequela Stroke
IBS (Irritable Bowel Syndrome)
Testimonials
Extremely Helpful!
Alro was extremely caring to my needs and health. His attention and attitude was refreshing. Seeking relief from jaw pain being unable to properly close. After one treatment of acupuncture, all the tension and pressure disappeared. Thank you!