Massage Therapy Red Deer
If you are looking for a Massage contact Red Deer Massage Clinic at #3 6828 50th ave Red Deer Alberta | Phone: 403-343-1539
Massage Therapy is the manipulation of soft tissue in the body, specifically to promote a feeling of overall well being.
Massage therapy treatments are suggested for all age ranges from premature babies to the working class to pregnant women.
The RMT (registered massage therapist) professionals like Bell Chinnery (photo below) at the Red Deer Massage Clinic uses a hands on approach to healing.
Areas such as the forearms, biceps, neck, shoulder, and leg areas are often some of the areas that need the most attention. Everyday problems with pain are common and an RMT usually works on the muscles, ligaments and tendons within the body.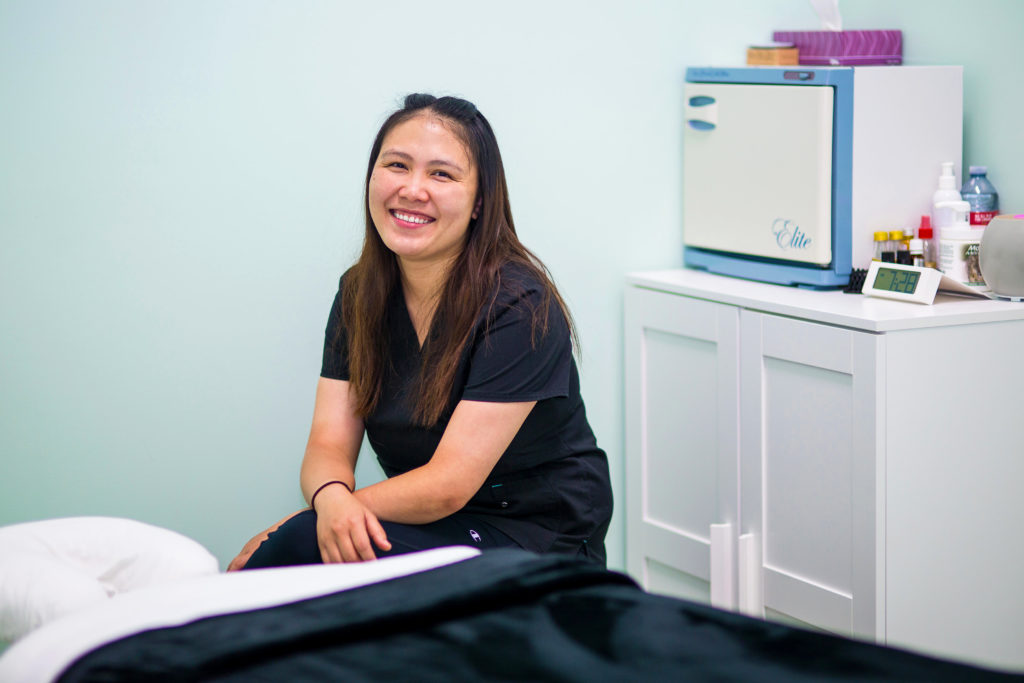 The Massage therapists at Flying Turtle Acupuncture and Massage in Red Deer AB believe that regular massage will help restore a feeling overall well being and health after sports injuries, repetitive tasks such as working on computers, as well as other issues after motor vehicle accidents and sport injuries.
Massage therapy works great for arthritis! There is nothing better than coming home from a massage therapy session and feeling good. No more arthritis pain, joint, pain or knee pain.
The feeling may last up to a few days but will require followup weekly massage therapy sessions to keep the arthritis pain away.
Deep Tissue Massage Red Deer
Flying Turtle Massage in Red Deer have clients that require deep tissue massage and come in daily with muscle sprain, repetitive motion issues, and other forms of stress.

Using basic massage techniques, the registered massage therapists in Red Deer focus on massaging aching muscles and muscle stress.
The massage profess will stimulate various muscle groups and increase circulation in the whole body. A therapeutic massage will most often loosen up tense muscles and increase the range of motion in a specific area of the body. Usually a deep tissue massage is great for any type of chronic injuries on the job or with athletes.
RMT Massage Therapists will give the patient a relaxing massage that will stimulate muscle tissue and increase circulation in the body so that blood flows freely allowing oxygen and nutrients into all parts of the body.
Massage Therapists in Red Deer use their hands, elbows, and forearms to manipulate soft muscle tissue. This technique will locate and treat problems throughout the body's soft tissue areas.
Prenatal Massage Red Deer
Prenatal massage for pregnant moms is on the rise in Red Deer, Calgary, and Edmonton, Alberta.
Massage therapy helps relieve muscle pain caused from ligaments tightening and loosening. Massage for expecting moms is great in that it aids in reducing the bloating (edema) that some women experience.
Red Deer Prenatal Massage offer their clients pre-natal body bolsters which allow pregnant moms an option to lie on their belly right upon until the ninth month of pregnancy.
Thai Massage Therapy Red Deer
Thai Massage Therapy is a very calming and invigorating form of holistic healing. Through a combination of stretching and acupressure massage therapy, the patient feels very relaxed and energized afterwards.
Thai Massage therapists focus on alleviating aches, pains and imbalances within the entire body. Patients come into Red Deer Massage to de-stress and harmonize the mind, body and spirit. Each massage and stretching techniques are usually customized to the needs of each patient. In this type of massage, no oil is used and comfy clothing is suggested
Hot Stone Massage Red Deer
Hot Stone Massage is great for soothing all types of aching muscles.
Hot massage stones are used to feel the amazing benefits that this hydrotherapy treatment offers. You will never feel more relaxed than with a hot stone massage. Many clients feel the immediate benefits of complete relaxation and a complete release of tension after a hot stone massage.
As soon as the hot stones are placed on your body, your circulation will rapidly return to normal and tight areas vanish. Red Deer Massage provide therapeutic massage services for all residents of Red Deer Alberta.
The functionality of every muscle cell in increased, blood flow accelerates, and you will have an improved feeling of overall wellness when you hire a professional Massage Therapist.
There is nothing better than getting a massage in combination with acupuncture services! The two together give a very holistic healing effect and a feel over overall wellness in the body.
Book Your Massage Therapy Session From Flying Turtle Massage Clinic in Red Deer today – 403-343-1539